14 bar (200 psi) Pressure Gauge – 2.8mm x 37mm Needle – Single
Order Code: AG14-37-28-S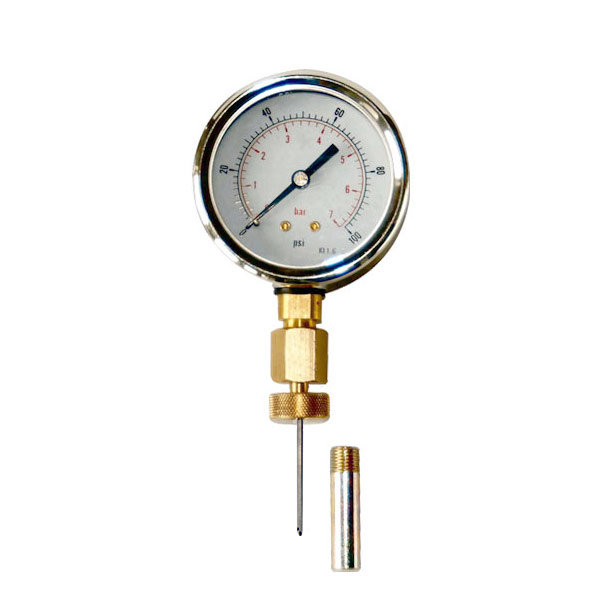 Type

Pressure (14 bar)

Connector

Binder-Style

Needle Diameter

2.8 mm

Needle Length

37 mm (standard)
A SINGLE 0-14 bar (0-200 psi) pressure gauge, fitted with a 2.8mm diameter x 37mm long Binder-style insertion probe.
The pressure gauge has a 304 stainless steel case; a polycarbonate window; a 63mm dual-scale dial; and a full-size Bourdon tube with brass/bronze wetted parts. It is manufactured to BS EN 837-1:1998 and has an accuracy of +/- 1.6% full scale deflection.
The insertion probe has a brass body and a stainless steel needle. The knurled ring has a 3/8″ UNF female thread.
P.T.F.E. thread-sealant is applied to the joint between the gauge and the probe, thus creating a solid seal.
Offered as a useful toolkit addition for circumstances when system parameters might exceed the capabilities of the Comdronic meter being used:
Use a single gauge to estimate total system pressure [AC6-SP = max. 10 bar / AC6-HP & AC7-HP = max. 20 bar].
Use a pair of gauges to estimate differential pressure across devices that might give very high readings such as pumps, chillers, strainers, etc. [AC6-SP = max. 200 kPa (2 bar) / AC6-HP = max. 600 kPa (6 bar) / AC7-HP = max. 800 kPa (8 bar)].
In order to help prevent any spikes in pressure from damaging the gauge, it is recommended that the nominal maximum working pressure should be no more than 10.0 bar.
If you own a Comdronic Manometer, claim your Loyalty Discount on this item in the Kit-List.