Extensive Valve Database – At Your Fingertips!
The performance characteristics of over 5,000 valves – from 70+ manufacturers – are pre-programmed into the AC7 and this extensive knowledge-base is continually being updated as new valves are introduced onto the market. Valve data files are automatically updated whenever an AC7 is serviced by us.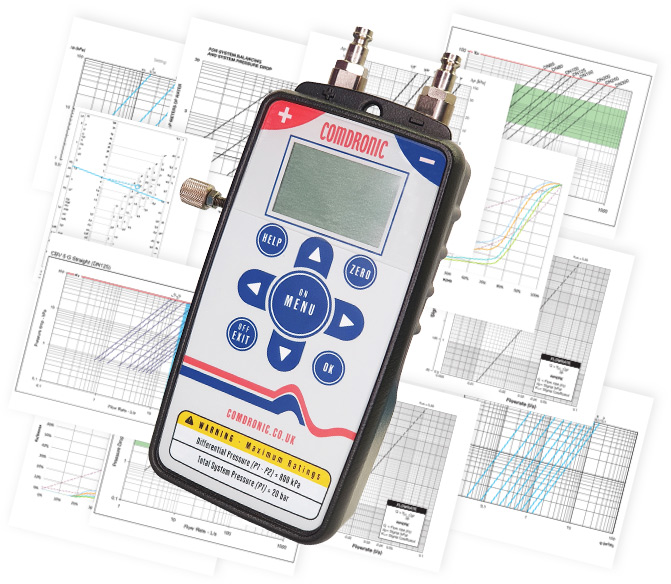 Simplicity
A nine-button navigation pad allows simple access to the easy-to-follow menu system and state-of-the-art software allows direct reading of flowrate, differential pressure, percentage of design flow and percentage of target flow. Display backlights ensure that on-screen data is always easy to read, even in the darkest of areas.
Sophistication
The use of sophisticated electronics and highly successful mechanics mean that high levels of accuracy are consistently achieved. The AC7 is particularly suited to modern systems with higher differentials being measured across differential pressure control valves and some automatic balancing valves.
Everything You Need
The AC7-HP Kit Comprises:
1 x carry case, including profiled foam inserts
1 x high-pressure AC7 handset, 1.0 kPa to 800 kPa
1 x pair of 20 bar connection tubes – 1 metre long
1 x pair of angle-pattern, 2.8mm diameter Binder-style adaptors
1 x pair of angle-pattern, 2.0mm diameter Binder-style adaptors
1 x set of T-handle hex keys (3mm, 4mm & 5mm)
1 x screwdriver bit-holder plus PH1 bit
1 x lanyard
1 x strainer maintenance kit
2 x 9V batteries
1 x quick-start guide
1 x instruction manual
1 x factory calibration certificate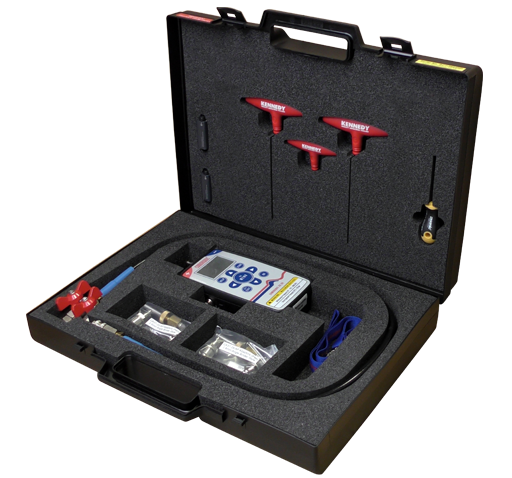 Using the AC7
Take a Reading
Select a Valve
User Maintenance
Service & Calibration
AC7-HP Manometer Technical Specification
Measurement Accuracy
+/- 1% of reading or +/- 0.2 kPa, whichever is greater
Hysteresis = 0.2% span
Maximum Total System Pressure
Display Options
DP & Flow Display — shows differential pressure and flow, along with details of the target valve/device. Normally the most appropriate display option when taking measurements from fixed-orifice & variable-orifice balancing valves.
Advanced Display — shows more complex commissioning data and may be preferred to the DP & Flow Display if automatic balancing valves are being measured or if a system of proportional balancing is being adopted.
DP Only Display — only shows the measured differential pressure – in large text – and may be preferred when the AC7 is being used as a simple manometer.
Flow Only Display — only shows the derived flow – in large text – and may be preferred when fluid velocities are being measured for the purposes of system flushing.
Valve Storage
Up to 100 storage locations can be used for the storing of 'live' commissioning data while on site.
Help
Context sensitive help is available for all functions. Dedicated button available for help.
Units
For Differential Pressure, choose your preferred units from: kPa, psi, bar, cmH2O, IWGA (inches water gauge), Ft HD (feet head) or Pa.
For Flow, choose your preferred units from: l/s, l/m, l/h, USGPM, UKGPM, m3/h, m3/m or m3/s.
For Velocity, choose your preferred units from m/s or f/s.
Valve Database
Over 5,000 valves and measuring devices from 70+ manufacturers worldwide
How the AC7 Compares
Compare the key features of our manometers
+/- 1% of reading or +/- 0.1 kPa, whichever is greater
+/- 1% of reading or +/- 0.2 kPa, whichever is greater
+/- 1% of reading or +/- 0.2 kPa, whichever is greater
Maximum Total System Pressure
Line Fluid (at sensor): +2°C to +50°C Ambient: +2°C to +35°C
Line Fluid (at sensor): +2°C to +50°C Ambient: +2°C to +35°C
Line Fluid (at sensor): +2°C to +50°C Ambient: +2°C to +45°C
Recommended Service Interval
Measurement Range
0.5 kPa – 200 kPa
Accuracy
+/- 1% of reading or +/- 0.1 kPa, whichever is greater
Maximum Allowable System Pressure
10 bar
Recommended Ambient Conditions
Line Fluid (at sensor): +2°C to +50°C Ambient: +2°C to +35°C
Recommended Service Interval
Every 12 months
Measurement Range
1.0 kPa – 600 kPa
Accuracy
+/- 1% of reading or +/- 0.2 kPa, whichever is greater
Maximum Allowable System Pressure
20 bar
Recommended Ambient Conditions
Line Fluid (at sensor): +2°C to +50°C Ambient: +2°C to +35°C
Recommended Service Interval
Every 12 months
Measurement Range
1.0 kPa – 800 kPa
Accuracy
+/- 1% of reading or +/- 0.2 kPa, whichever is greater
Maximum Allowable System Pressure
20 bar
Recommended Ambient Conditions
Line Fluid (at sensor): +2°C to +50°C Ambient: +2°C to +45°C
Recommended Service Interval
Every 12 months