Angle-Pattern Binder Adaptor – 2.0mm x 37mm – Pair
Order Code: CA37-20-AP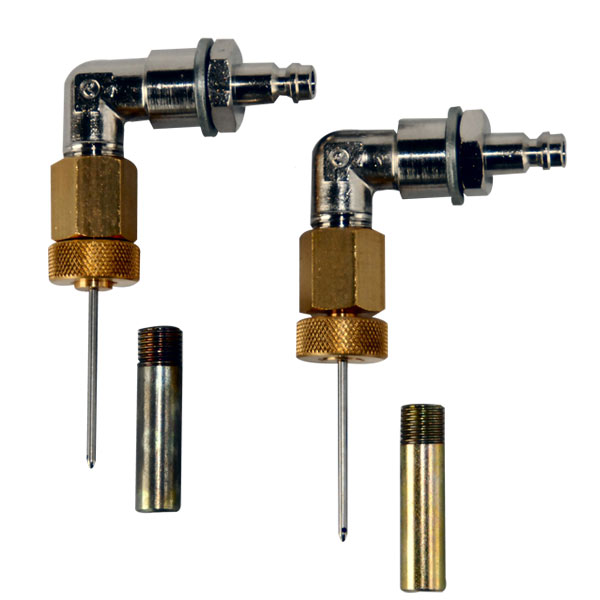 Type

Binder-Style

Design

Angle-Pattern

Needle Diameter

2.0 mm

Needle Length

37 mm (standard)
A PAIR of angle-pattern, Binder-style, connection adaptors, complete with 2.0mm diameter x 37mm long needles.
Considered by some to be the older style of Binder-style connection adaptor, for connecting to balancing valves from manufacturers who fit their products with lower profile pressure-test-points (e.g. Frese).
NOTE: These connection adaptors are less robust than the 3.3mm diameter equivalent and, as such, are more susceptible to becoming damaged during normal use.
The insertion probe has a brass body and a stainless steel needle. The knurled ring has a 3/8″ UNF female thread to suit the corresponding male thread on a Binder-style pressure-test-point. Supplied with an O-ring fitted at the base of the needle to assist sealing on the pressure-test-point (effective needle length with O-ring fitted is circa 35.5mm).
The elbow and quick-release plug are nickel-plated brass and the Dowty washer is mild steel with a bonded nitrile seal.
P.T.F.E. thread-sealant is applied to the joint between the insertion probe and the elbow, thus creating a solid seal.
Directly compatible with the quick-release coupling on all Comdronic connection tubes.
If you own a Comdronic Manometer, claim your Loyalty Discount on this item in the Kit-List.