Straight-Pattern Binder Adaptor – 3.3mm x 37mm – Pair
Order Code: CA37-33-SP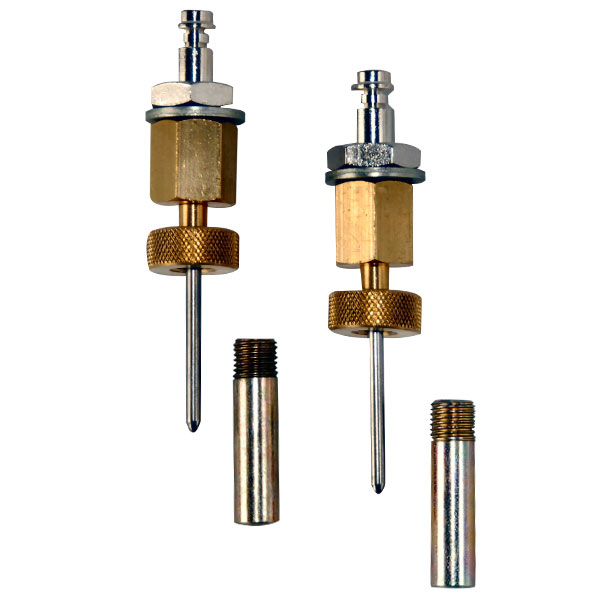 Type

Binder-Style

Design

Straight-Pattern

Needle Diameter

3.3 mm

Needle Length

37 mm (standard)
A PAIR of straight-pattern, Binder-style, connection adaptors, complete with 3.3mm diameter x 37mm long needles.
These connection adaptors are very popular within the HVAC commissioning industry for several reasons:
It is extremely common for valve manufacturers to fit Binder-style pressure-test-points to their balancing valves and a needle diameter of 3.3mm is compatible with the majority of these manufacturers, whilst providing excellent resistance to bending / snapping.
A needle length of 37mm ensures that the aperture at the end of the needle enters the waterway, without being adversely affected by any turbulent flow within the main body of the balancing valve.
Although slightly less versatile than the angle-pattern equivalent, these straight-pattern connection adaptors are the least expensive option available.
The insertion probe has a brass body and a stainless steel needle. The knurled ring has a 3/8″ UNF female thread to suit the corresponding male thread on a Binder-style pressure-test-point. Supplied with an O-ring fitted at the base of the needle to assist sealing on the pressure-test-point (effective needle length with O-ring fitted is circa 35.5mm).
The quick-release plug is nickel-plated brass and the Dowty washer is mild steel with a bonded nitrile seal.
Directly compatible with the quick-release coupling on all Comdronic connection tubes.
If you own a Comdronic Manometer, claim your Loyalty Discount on this item in the Kit-List.